Meet Luee Lopez: Student Entrepreneur
Luee's latest drop below.
Today, we're talking about artist, skater, and student entrepreneur Luee Lopez.
Luee designs all his art and prints it onto very comfortable clothing such as hoodies, and shirts, in which he also makes patches for his brand Rocket Chair.
Luee initially started his business from nothing. He began by helping design a graphic for his friend's brand, "which people loved," he said.
"My friend asked me to help him with this graphic for this drop on this hoodie,  which I did, and that sold out in a day!" Luee stated.
He started experimenting with making patches that sold out in a couple of days. From the success of that, he started printing his work on shirts which were also a hit.
He makes psychedelic visual art with themes of existentialism and nature.
I sat down with Luee to learn more:
Q: "So how long have you been doing this?"
A:
"
I've been drawing my whole life, but I started making things in December."
— Luee Lopez
Q: "Why is your name spelled like that?"
A: "I was in preschool and I didn't know how to spell my name. Everyone called me Luee so I spelled it L-U-E-E and just stuck with it ever since."
Luee has also been skating for ten years. He enjoys being sponsored and supported by many people.
You can check out his art on Instagram @lueesucksatdrawing and also his clothing brand Rocket Chair on @shityouseeonacid.
Leave a Comment
About the Contributor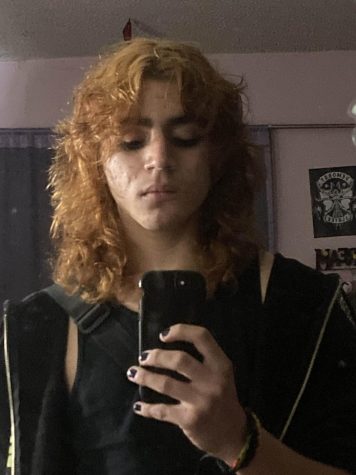 Kaeden Morgan, Staff Writer
Hey! My names Kaeden but you can call me Kade! I'm a Junior at Gilbert High School who loves music, videogames, and to make a difference in our world. ...