AUHSD College & Career Fair
Get Excited! Today is College Career Day!! The Day we have all been waiting for. It's the College & Career Fair. The Anaheim Union High School District Virtual College and Career Fair is happening now! Don't forget to Register for the event. Every Student should go to the link sent from Michael Seltzer. Here is the Registration Link: https://app.socio.events/MTEzNDc/auth.
On Tuesday, October 19th, Gilbert High School will be on an Assembly bell schedule, 1st through 3rd periods to kick off the Career Fair. Here is the full schedule of events: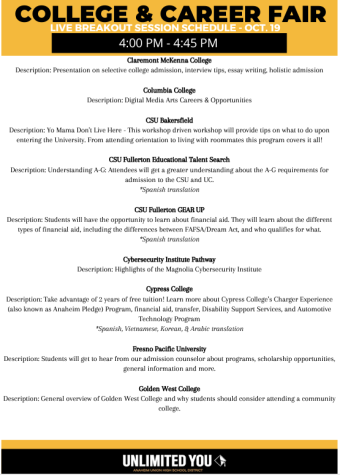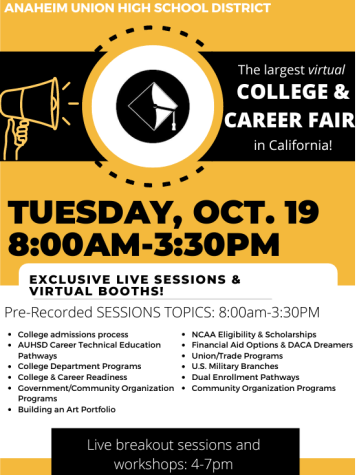 Today we are on a "Students Check in Days" Schedule.
Students will attend 1st. 2nd and 3rd periods. After 3rd, they will have a short stretch break and then return to 3rd period for the college fair. Each student will need a Chromebook or they can use their phone. They are to use Socio to log into the college fair. When they log in, they will see this screen.
You can choose from the lLeft menu to attend a pre-recored workshop in "Career PathWays". Explore "Colleges" "Military-Tech-Trades" options or get more information of FAFSA. They can also reserve a spot on tonight "Sessions & Workshops". We will be giving them the whole Check -In period to discover items here.
Fullerton College's High School Outreach Team has added two additional financial aid workshops in Spanish, 5;00 pm – 6;00 pm . You will find an attached flyer with more information about the events in Spanish. Below are the topics that will be covered: Financial aid Workshops in Spanish link https://fullcoll-edu.zoom.us/meeting/resgister/tjYof-ihpzlpHN1OLCfDPyndEwz4wEF6koz_?_x_zm_rtaid=xn_ckxG1QXy_4W4M6Ha9gqQ.1633637766410.f0792ff53198ee413fd5ba338635cc5&_x_zm_rhtaid=654.
International Day of the Girl Workshop at 4;30 – 5;30, Registration link English: https://tinyurl.com/GIOCFall2021
Spanish: https://tinyurl.com/GIOCFall2021-2
Students who want to learn more about UCLA's project hope: https://www.project-hope.site/gilbert/ Zoom Link: https://ucla.zoom.us/j/8848167475