In partnership with Second Harvest Food Bank, Gilbert High school welcomes you to the first permanent school pantry operated by a HS in Orange County! They are open to the community and provide dignified, equitable, and consistent access to nutritious food. Once enrolled, our "clients" can visit El Mercadito once a week to chose from a variety of healthy food items. This is all made possible thanks to the amazing volunteers who keep our shelves stocked & our distribution running. Ask about how you can get involved too!
Application process must be completed prior to participation
Appointments are need to shop at the pantry
Each family must bring their Mercadito reusable bag or bag of the same size
Families may take only items that fit into their (1) bag
AUHSD families must bring their Family Key Card
What is a permanent school pantry?
It is a safe and open space that provides dignifies, equitable, and consistent access to nutritious food, free of cost to program participants. The food is donated by our community partner second harvest food bank of orange county. Families are able to fill one medium size bag grocery bag one time per week with  their choice.
How do Families enroll in the program?
Families enroll by completing a simple intake application. There are no minimum income requirements to be able to qualify for this resource. Families do have to express a need for this resource.
Step 1: Complete an application,application can be found in your email if you have students in our school, they were previously emailed out to everyone. On their website at: bit.ly/gilbertmercadito and if you do not have access to a printer you can pick one up at our main office or at the Family & Community Center in room 43 & 44.
Step 2 :  Return your application to our Family & Community Centers in room 43 & 44 or to the main office, Applications will be processed during the pantry office hours.
Step 3: Set your appointment and confirm your availability. Their appointments are only 10 minutes. You can only pick up food at the time of your scheduled appointment
How many families do we have the capacity to serve at our Mercadito?
At the moment, we are able to enroll 160 families and serve 42 families per hour. As we grow and expand, we hope to be able to reach more families.
Who runs the pantry?
Volunteers  our goal is the Build capacity and grow with our community. We depend on community members to volunteer in order for us to stay open. Please join us in this amazing  project, and sign up to volunteer:bit.ly/GHSvolunteers No previous experience is need.
What are examples of the types of food we receive?
We receive a variety of assorted seasonal fresh vegetables. Variety of dairy products like milk, cheese, and eggs. Variety of breads and grains. Sometimes we receive protein products & vegetarian options. Every week we have a different Variety.
Volunteers Needed
Make a differnce in your community , meet new freinds ,& earn community service hours!
El Mercadito helps feed about 160 families per week, thats 600 per month! We csnnot do it without you or your support.
El Mercadito at GHS (Room #44)
1800 W Ball Rd Anaheim, CA 92804
Volunteering opportunities
Mondays 1:30 – 3 PM
Wednesdays 9 – 11 AM
Wednesdays 1:30 – 3:30 PM
Scan the QR code to sign up! Or text " @together41 " to the number 81010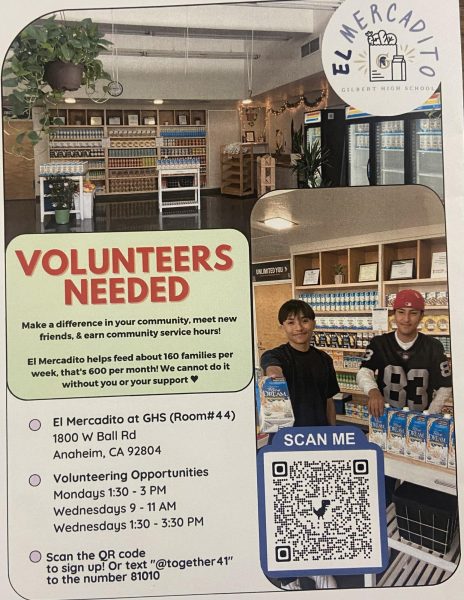 Store Front Days (Food Distribution)                                     Pantry Office Hours (Application Support)
Wednesday 9:00 – 11:00 AM                                                                Tuesday 10:00 – 11:00 AM
Wednesday 1:30 – 3:30 PM                                                                  Thursday 1:30 – 2:30 PM