Katella High School Lockdown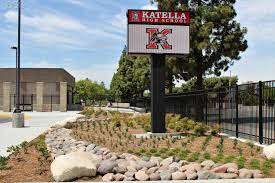 On April 14, 2023, Katella High School went on a level-three lockdown due to a social media threat of a potential school shooting. An unknown student posted a photo of a pistol on Instagram with a caption stating that the user and their two friends were going to harm anyone they saw.
The school did not catch wind of this until an unknown phone call came in at 9:30 AM threatening the school. The lockdown lasted from 9:31 to 10:09. At approximately 9:47, the Anaheim Police Department showed up and executed a search of the school.
Thanks to the quick work of the police department, they were able to swiftly search the school and alleviate fear in the building by declaring it safe and lifting the lockdown at 10:09 AM. According to students, the teachers did not know if it was a drill or a real lockdown.
This frightening event validates the recent Cypress High School scheduled student walkout which was intended to bring light to gun violence. We might not think it can happen to us, but it definitely can., and it seems to be getting closer. Stay informed. Stay safe. If you see something, say something.