The Last Food Distrubution of the Year
Yesterday, March 14th 2023, the last food distribution of the year was held in Gilbert High's very own school parking lot. The volunteers and teachers had a blast working together as a team, and overall the distribution was a success. 50 plus families showed up, and we were able to provide them with groceries they needed. This also put smiles on their faces.
Second Harvest Food Bank and Feeding America were the sources of the donated food items. Products included avocados, potatoes, apples, milk, eggs, Covid test kits, sugar-free yogurt and water, chips, and many more items that were boxed and loaded into cars as they drove up.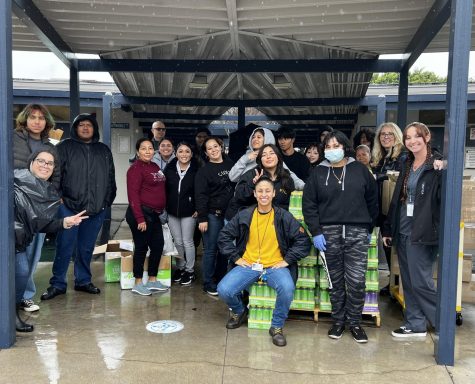 It was a rainy day, but that did not stop the Gladiators from doing the work and having fun helping the community.
This was the last food distribution of the year, but there is talk about something new for the future weeks ahead.
Our Family and Community Engagement Specialist, Rocio "Ro" Mendez, said, "Yesterday was our last Free Drive-Thru Food Distribution ever! It was bittersweet and we ran out of food in 45 minutes! We fed 142 families including 306 children, 283 adults, and 60 seniors! Surprisingly, the rain did not stop anyone!"
She added, "Instead of families getting food once a month, they will be able to obtain free weekly groceries by appointment here in our Community Center thanks to our partners at Second Harvest Food Bank!"
This will be a permanent pantry called "El Mercadito" (The Little Market). Stay tuned for more information on El Mercadito.