Keeping the Streak Alive! Staff Defeat Student Basketball Team by One Point!
Gen. Staff, Glad Times Collaboration
November 5, 2022
Today's student vs. staff basketball game was a huge success. Players, coaches, referee, timekeeper, scorekeeper, and spectators all had good fun. Students practiced for two weeks and worked hard to keep their eligibility with good grades. Despite a good effort and a few extra-point shots by the student team, the staff continued their record of beating the students. Today's score was 11-10.
A big shout out to all participants: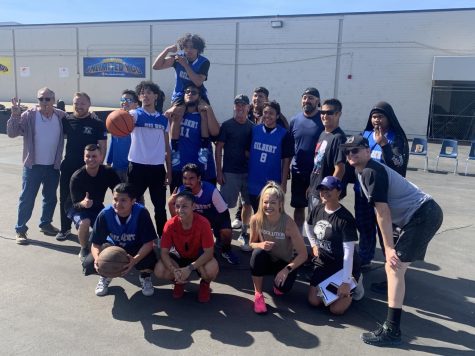 Staff Players
Coach Monse
Coach Cam
John De Chene
Mark Lopez
Rob Nakayama
Stephen Dominguez
Howard White
Jason Lamb
Student Players
Nasser Abdalla
Toss Tsakalis
Carlos Ruvalcaba
Josue Vargas
Victor Gonzalez
Anthony Padilla
Julio Camarena
Joseph Jacklick
Referee
James Cowan
Timekeeper
Janelle Frese
Maintenance
Rene Munoz
The O.G. Event Planner