Frida Kahlo: Did You Know?
Frida Kahlo is a name we've all probably heard before. She is famous for her extraordinary take on women's power and Mexican politics through art. What you might not have heard, though, is the fact that she was bisexual.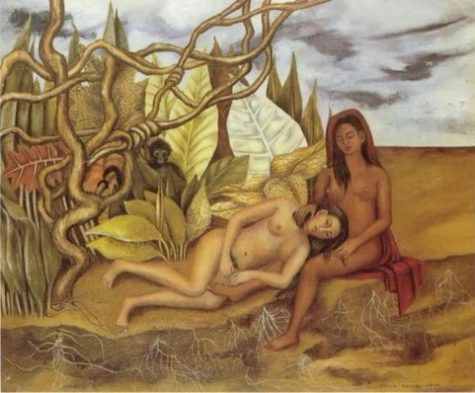 At the age of 18, Kahlo suffered horrible injuries following a streetcar accident, which left her with an iron handrail through her pelvis. Along with fractures to the spine and foot, this meant the rest of her life would be dominated by disability and chronic pain. Painting only became an activity of hers after this horrific accident. Being mostly self portraits, Kahlo's work touched on important subjects such as physical suffering, Mexican politics, and love.
She married a man called Diego Rivera in 1929, but when he had an affair with her sister, she left Mexico. However, in 1940 she remarried the man. Both Frida and Diego had frequent affairs. Frida's included men and women alike, many of the women being movie stars at the time.

Kahlo represented many sapphic subjects in her art, but also loved to play with the boundaries of gender in everyday life. A family photo from 1926 features the painter in full male "drag". Clothes were very important to Kahlo, she used them to express independence from femininity.
Frida Kahlo died on July 13, 1954, soon after turning 47. A few days before her death, she wrote in her diary:"I hope the exit is joyful — and I hope never to return — Frida". The official cause of death was given as a pulmonary embolism, although some suspected that she died from an overdose that may or may not have been accidental. An autopsy was never performed.