Eye-Opening Field Trip To The Cheech Marin Center For Chicano Art And Culture
On Monday October 3 a hand full of students where able to have the chance to experience a very fun field trip to The Cheech Marin Center For Chicano Art And Culture in Downtown, Riverside. The students saw many different kinds of art work that where collected by Cheech Marin. There was ruffly around 90 collected art pieces out of the 700 others that he has collected. There were painting and even small and big statues. There was a painting that was about 26 feet high and when you moved left to right the painting would change images because there where many different layers that made it look like the painting was changing when you would move. They're where many different paintings that told very different stories.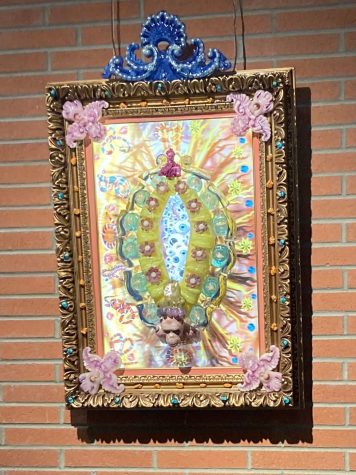 Many students got to take many pictures of the different kinds of art work that was there. The students got so see a very big piece of art work that started to move like a Ferris wheel and it had what looked to be sharp knives. There was also a statue that was shaped as a rock head and in the inside there was what seemed to be a goat with a person laying on its back and the person was watching something that seemed to be a video recording of security cameras that kept glitching. There where lots of statues that where made of glass and that looked very weird and very concerning.
Once the tour was over the students had an art lesson and the students where able to draw and paint their own dream car of follow the person that was giving the students the tour. Once the students where done with the art lesson they went outside to the front of the building and they had there lunch which was a peanut butter and grape jelly sandwich with their milk and fruit. Once the students where done with their lunch they all cleaned and they finally made their way towards the school bus. On their way  home everyone was falling asleep on the bus because they where all tired of all of the walking and talking throughout the field trip.
Even though there were only 90 paintings on display, they each showed different stories.