Back to School Night was a Superhero Style Hit!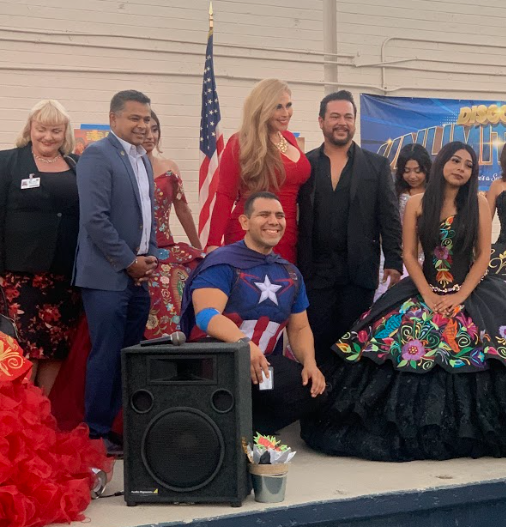 Did you come to Back to School Night?
Our campus invited community partners and stakeholders to attend our festival style Back to School Night event on September 20th, 2022. It was a lovely last night of summer. Many have said this was our best BTSN ever!
Even Rafael Navarro attended our party. An award winning artist, he worked on pieces from Disney, Marvel, DC, and Star Wars. Have you heard of Spectacular Spider Man? This is one of his best pieces he has worked on. He is currently working on his own book called  Sonambulo, starring a mysterious wrestler who stalks your dreams. He is sleep deprived because he is too busy fighting for justice. Rafael sketched several students, parents, and staff during the event, for free.
Among the creative minds invited to our Back to School party was a fashion designer named Adan Terriquez. He designed beautiful dresses for Jenifer Rivera. His quinceanera dresses were modeled  by our students in a beautiful display as a musical fashion show.
Christopher Alaniz, one of our business class entrepreneurs, is selling his clothing and with every purchase $5 will be donated to Gilbert High School's community corner to help families with food and clothing.
Michael Flores greeted guests with the pledge and opening comments. Board members attended. Mr. Lara was Captain America. Many display tables featured departments, clubs, and community groups and their giveaway items and creative centers. Like the Rainbow Gladiators booth with activities in exchange for yummy candy. Including the fun activities any one could participate in like Hula Hoop challenge, musical chairs, and Karaoke at the end of the day.