The Powers in Books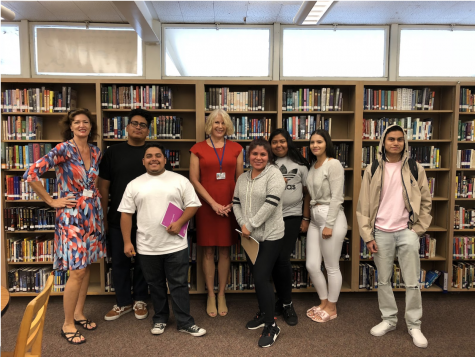 Books are essential. They're written knowledge, knowledge written on paper from the writer's mind and thoughts. There are plenty of books out there of many genres. You may find some that interest you in our school library. Yes, we have a library! The green door may look like the entrance to a normal classroom from the outside, but once you step inside, the brisk air slaps you so cold, you may get a cold! You'll be awakened to walk through a new world.
Once you enter, you'll see bookshelves and bookshelves filled with books, from graphic comics, to books about professional careers. There are tables and chairs and computer stations in there. You may enter during the mornings or perhaps after school to complete work, or to take quiet refuge to catch up on some reading.
Every library has to have a librarian. Mrs. Jenks is our Gilbert High School campus librarian. She holds the key to Gilbert's library. Without her everything would've been out of place. She organizes books systematically using a method called the Dewey Decimal System. Ask her about it if you're feeling curious. Her favorite genres of books are mystery and suspense. She recommends a book, one of her favorites, titled The Watchers by Dean Koontz. "One of the reasons I like Dean Koontz is that all the stuff is set in California."  If she enjoys that book so would you. Go check it out at Gilbert's Library, and make sure to write a review on the school's catalog so more people can know that it is a book worth checking out.
We also have a District Librarian. She is Mrs. Powers- no relation to Austin Powers.  Over the years Mrs. Powers has had multiple jobs. Before she wanted to be a librarian, she went from working at Home Depot to becoming a day camp counselor to teaching at Santa Ana College. She even submitted an article to the LA times, and won $250 dollars. With that money she bought a bike, and has that bike to this day. She's done it all! She also knows how to roller skate backwards. Mrs. Powers definitely exerts a lot of power. To even be a librarian, you'll need a masters degree in library & information science. 
Visit the library! Get your books, and read up! Knowledge is power.