Welcome New Staff Members of The Gladiator Times Online News Team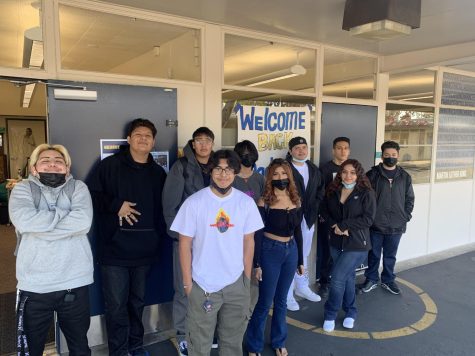 Welcome to all the new staff members of the Gladiator Times website for semester three. We are being honored with the presence of 21 new students. Each with a particular talent that they will be bringing to the table for the next upcoming weeks. 
First up, we've got Lorely Gaytan, a  junior coming from Loara High School. She is very respectful and generous, hoping to bring the best content to the website. Next we welcome Kayla Perea, a returning junior AND an ASB member of Gilbert High School. Aylin Montes is a first-time staff writer off to an amazing start having completed her first staff interview with our newest teacher on campus, Mr. Lopez.
We also have Steven Nietes, a student at Gilbert High School who enjoys watching anime shows like Rising of the Shield Hero, Black Clover, One Piece, just to name a few. Bryce Walker is also here, he's a junior who loves to spend his free time hanging out with his friends and playing video games. Gaby Lazo also joins the team. Her writing skills will serve to enhance the paper for sure. 
Serina Poe, a junior, manages to balance school with her job, and that's no easy task. Gabriel Martinez is a seventeen-year-old senior who likes to watch football. His favorite team is the 49ers. (Sorry they lost to the LA Rams in the NFC Championship.) Angel Ruiz is a new staff writer who aims to investigate the health and safety of our campus. Bryant Sandoval and Bayron Valladares are new to the team and have been busy collecting data for their first publications on our page- ASB club news and the Covid19 Pandemic news, respectively. 
Andrea Razo, a returning senior at Gilbert High School is coming from Kennedy High School. She looks to graduate this year. Diosimar Ventura, better known by his friends and everyone who knows him, as the famous Mario Kart character, Yoshi, is a unique young man with a unique name and a unique fact about him is that he just turned sixteen in October. Joshua Amescua joins the team this quarter after completing a semester in the Career Pathway program here. He's got amazing drawing skills. Diana Guerrero is also joining the staff this quarter with high hopes as an aspiring writer. Lastly, we welcome Mauricio Merino. He's a returning senior who enjoys skateboarding.
Welcome new staff writers. This is the largest journalism class in Gilbert High School history! With so many students working on creative and meaningful content for the newspaper, we are convinced the Gladiator Times will grow in readership and create a new positive buzz around campus. Led by returning staff members, senior editor Juan Agraz, and staff writers Danny Dorado and Fabian Espinoza, and advisor/teacher Janelle Frese, the Gladiator Times Staff is off to an amazing new year filled with interesting stories and the stuff to tell them well.