Happy World Teacher Day!
Celebrating our teachers today and every day.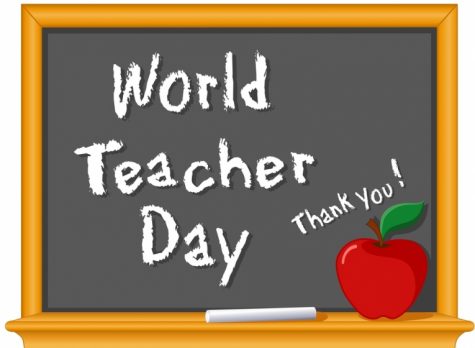 Celebrating all of our Teachers on World Teacher Day and every day. Here are some personal messages of gratitude from Gilbert High School students to their teachers:
Jonel C. – I'd like to thank Mrs. Ram.  Thank you for keeping the work very easy and understandable.  I'm also very grateful that you allow us to redo assignments as many times as we'd like.  My stress levels in your class are always the lowest, unless I need to talk during LIVE sessions.  Even then, you're very welcoming and the other students are kind too.  It's also really relieving to know that you still encourage us to respond, even if we don't know the correct answer.  On a side note, I find it really sweet and motivating when you compliment and engage with the students' answers.  I get lots of anxiety when it comes to school, unfortunately, and your class is like a breath of fresh air.  Thank you again and I hope you have a wonderful rest of your week.
Arturo B. – Ms. Michele R thanks to her that all her work or assignments are easy
Daniel G. – Ms.Resch, Im thanking her because she's always there for me when I need her
Rodolfo T. – I would like to thank all of my teachers because they all helped me learn something new.
Athen E. – I'd thank all my teachers cause their just so stellar.
Alexandra A. – I am thanking Mrs. Kough because when i first started her class i was having a hard time and struggling a lot but she helped me and would explain things to me and asked me if i had any questions so i wouldn't be lost.
Samantha G. – Mrs. Uhrhan because she is so helpful and just wants everyone to pass
Erika LF. – Thanks to Mr. Done fore always being so detailed with assignments. And helping us better understand his class
Jack C. – I'd like to thank Mrs. Resch because even before I joined FNL she was already so welcoming. She gave me a place I can meet new people and create bonds with. She also so understanding and helping.
Jennifer C. – I am thankful for Mrs. O.G. because she made PE fun for me.
Christian C. – I would like to thank Ms. Le for helping me and making Gilbert look not that bad. When I entered Gilbert for the first time, I was a little nervous because I didn't know this environment I was use to.
Ryley C. – Mrs. Schofield, I want to thank her because she has taught be so much about the medical field and I knew I always wanted to be a paramedic and being in her class made me want to even more.
Isaiah G. – Mr. Cho because he´s a good and caring teacher and makes sure we all pass his class. He is a funny teachers that makes math a easier way to do.
Yoselin R. – I want to thank Ms. Stift because on Tuesdays and Thursdays she will let us turn in late work and whatever type of work she would give us she would explain it well that it was easy to remember what to do.
Julian V. – Ms. Cho because he made math easy for me to understand.
Valerie D. – I thank all 5 of my teachers because this quarter has been great and somewhat smooth, But they all did the best they can working and helping us still learn during this pandemic knowing it was hard to do from a distance. Because its sometimes hard to understand especially when its work you dont understand as much they all were great teachers. (Ms. Drysol, Mrs. Fagu, Mr. D, Mr. Done, Mr. Pobst)
Hong K. – Mrs. Kersten because she has notifying us and has been keeping in contact with my parents and helping me out with my work.
Pedro L. – I'd like to thank Ms. Kersten because she is always reminding students of their missing assignments.
John D. – The questions/comments I receive nearly on a daily basis are all about "what's best for students" & not a day goes by I don't think to myself how thankful I am to work with all of you.
Thank you, students, for being the best part of a teacher's life! Together, we are Gladiator strong! Be sure to rate your teachers at:  https://ratemyteachers.com/us/california/anaheim/gilbert-high-school