Graduating Gladiators !
Three Gilbert Gladiators who are moving on.
Hang on for a minute...we're trying to find some more stories you might like.
As of today, three hard-working GIlbert students have moved up in the world, as high school graduates! Their names are Juan Lule, David Perez, and Samantha Barker. From my brief encounter with them, as I was taking the photo, I can say with certainty that they are genuine and friendly people. Unfortunately, Samantha was absent, so I wasn't able to take a picture of him/her. So if you see either of these two either in or outside of campus, make sure to congratulate them! 
About the Writer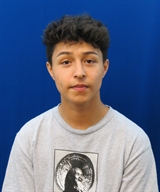 Edgar Gonzalez, Staff Writer
Edgar Gonzalez was born on September 30, 2002. He is a senior at Gilbert High School that enjoys skating, playing video games, and watching anime. He also...