Gilbert Students ROCK!
Ukulena in The Nesting Dolls original music video
Candy Noveron and Jeffrey Moso, Staff Writers
October 25, 2019
Hang on for a minute...we're trying to find some more stories you might like.
Current and former students share a passion for music. Meet two Gilbert Gladiators on their way to a brighter and more musical future. One, Jullian Reynoso, is a junior at Gilbert High School, and the other, Marlena Khramov, graduated in 2015. Both are inspired by music, have big creative musical goals, and share a love for the limelight.
Jullian "Sappy" Reynoso is the bass player and rock star from Slow Hearts who are known for their unique sound- new wave, shoegaze and post punk. Their creative minds work in mysterious ways that only they can do and know. If some of you don't know what shoegaze genre is,  it is also known as "Dream Pop"- a sub genre of indie and alternative Rock.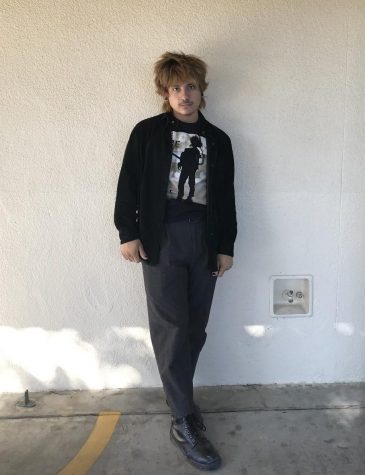 Sappy has been part of the Slow Hearts band for at least three-and-a-half years with three other members: his brother, his friend Sebastion, and, lastly, his friend Enrique. Sappy is known for being the bass player. There are also two guitar players and one drummer. Sappy
(Jullian) Sappy expresses his emotional side of creating music. He explains that music makes him feel so many different things, that creating music it makes him fall in love with music. Sad or happy, it just depends on what kind of music that they make, he says.
You can find Sappy on instagram under @undercookedbeef and the band under @slowhearts_.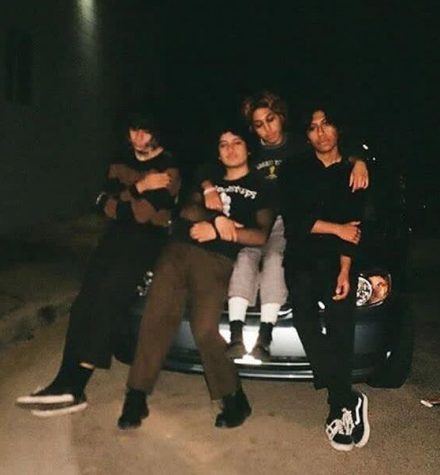 And one of their songs on soundcloud. 
https://soundcloud.com/slow-hearts/momdemo-slow-hearts
Gilbert graduate, Marlena Khramov, came to Gilbert High School in the fall of her junior year 2013, following the sudden death of her father. Still grieving and struggling with the aftermath of such a personal loss, she completed her graduation requirements early during her senior year, January
2015, and went through the Gilbert graduation ceremony in June 2015 where she sang the National Anthem before a very packed Cook Auditorium crowd. She said she was really nervous to sing it, but she did it for her classmates and in memory of her dad who was a musician and composer.
Marlena loved being a student at Gilbert. She felt like she was treated nicely and felt welcomed and appreciated by the teachers she had. She was grateful to have met new people too. She said coming to Gilbert was a good experience for her. It allowed her to get the emotional support she needed and get on track for a brighter future. Her advice to Gilbert students today is, "Give yourself a chance to heal, to graduate on time, and never give up."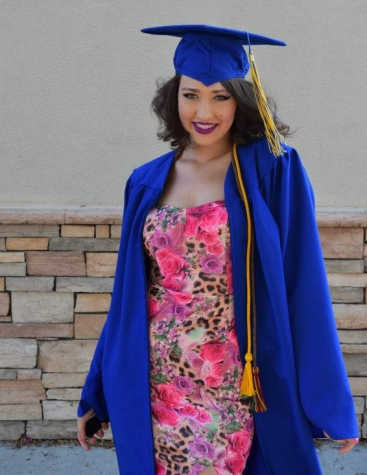 After Marlena earned her diploma she started working in the music industry, and she has a unique talent for that. She has an amazing voice and plays multiple instruments including the ukulele- the root of her stage name, Ukulena. She performs solo or with her full band, The Smitten Kittens. During Halloween season, she performs as Spook-a-lena with her Bitten Kittens.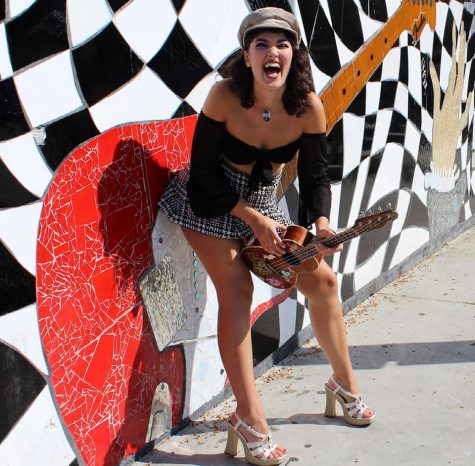 She has produced two EPs and one full album as Ukulena. She also writes and performs with her sister in the band The Nesting Dolls. She's collaborated with other working artists including members of Spindrift, The Adicts, and Martini Kings. Ukulena tours nationally, but you can catch her when she performs locally too. She has a Tuesday night residency at the all-ages Bamboo Club in Long Beach. You can see her at The TikiLand Marketplace this holiday season. For more shows and updates, visit www.ukulena.com. She's also on Instagram, Facebook, and YouTube.